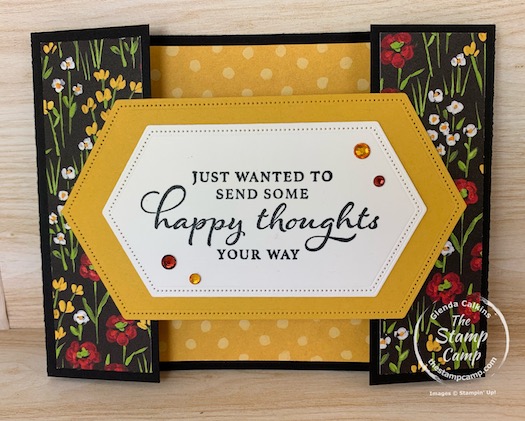 It's Fun Fold Friday and I'm calling this fun fold the Stitched Nested Bridge card. It uses the Stitched Nested Labels Dies from Stampin' Up! and they create a bridge from one side of the card front to the other.
You may be thinking you've done that card before; but nope first time. I have done something that looks like it but in the other direction and was created differently. The way this card was created I think is easier than the way I have done this type of card in the past. You know sometimes a light bulb will click in your head and it's like why didn't I do it this way before; well that's how this card came about.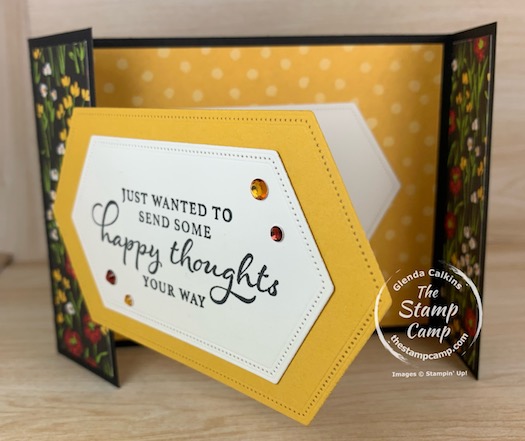 How you spotted how it is created differently yet?
Join me today on my YouTube Channel "The Stamp Camp" at 3:00PM EST and I'll show you how it is done. All the dimensions and scoring will be in the video as well.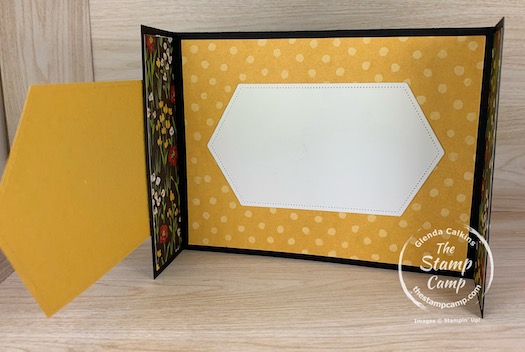 Now it probably makes a bit more sense.
I used the Flower & Field Designer Series Paper which is a FREE Sale-a-bration item you can choose when you spend $50.00 (before shipping and tax). You only have until the end of February to get those Sale-a-bration FREEbies!
The Sentiment is from the Happy Thoughts stamp set which is in the January – June Mini Catalog. My niece who is 26 years old was just diagnosed with a rare bone cancer and I thought this sentiment was perfect to send to her. It has been an extremely difficult few days for her and my sisters family.
Here is the Shopping list:
Click on the product(s) you wish to purchase and add them to your shopping cart. Remember to use the Host Code: G2AYVQFE
If your order is over $150.00 you are your own host so do NOT use the host code. You will receive the PDF file.
Don't forget it is Sale-a-bration! You have until the end of February to place a min. $50.00 (before shipping and tax) order and receive a FREE Sale-a-bration product(s).
Also, I'm still looking for people to join my team; "Team Stamp Camp"! Choose $125.00 worth of products from any of the catalogs and and receive 5 packs of the NEW Designs of Regals, Neutrals, Subtles, Brights and In Color Designer Series Paper packs; each pack is an $11.50 value, plus you'll get a Paper Pumpkin kit! All of that for ONLY $99.00 and shipping is FREE!
Click on Join My Team at the top of my blog to get started!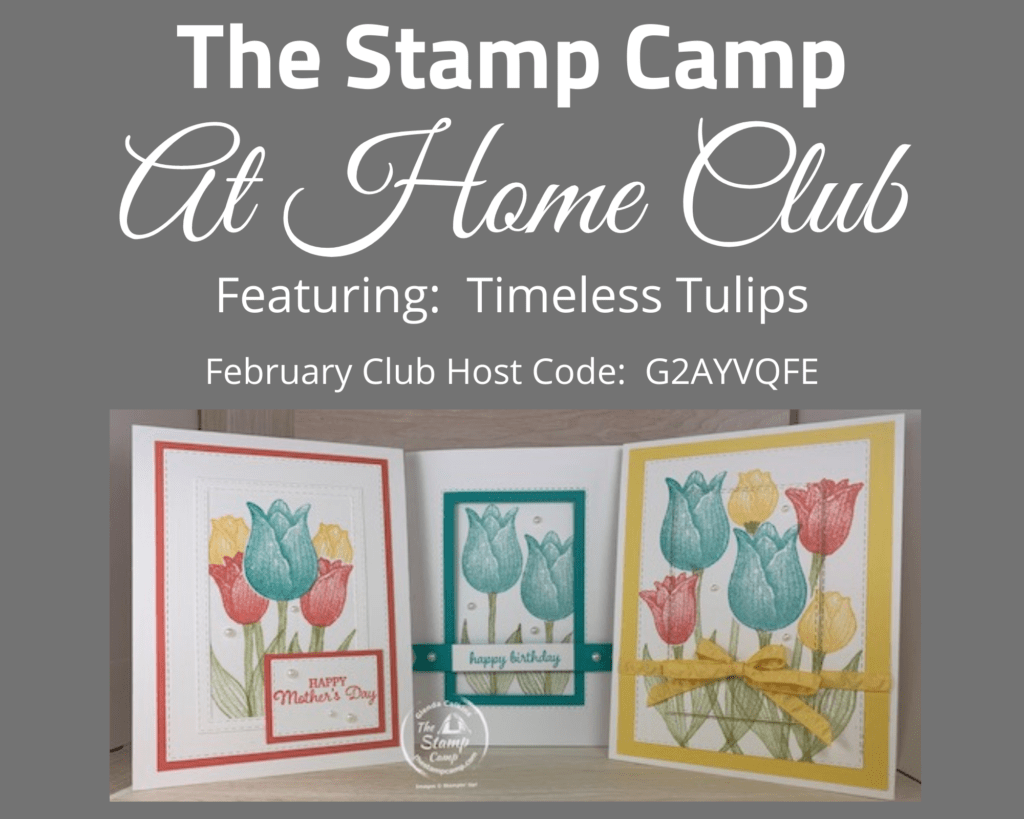 This month's Stamp Camp At Home Club features the Timeless Tulips and the Stitched Rectangle Dies to create some awesome cards with a few tips and techniques and a fun fold card. Get your Stamp Camp At Home Club Kit today! You can find all the details by clicking HERE.
Customer Appreciation PDF file for February: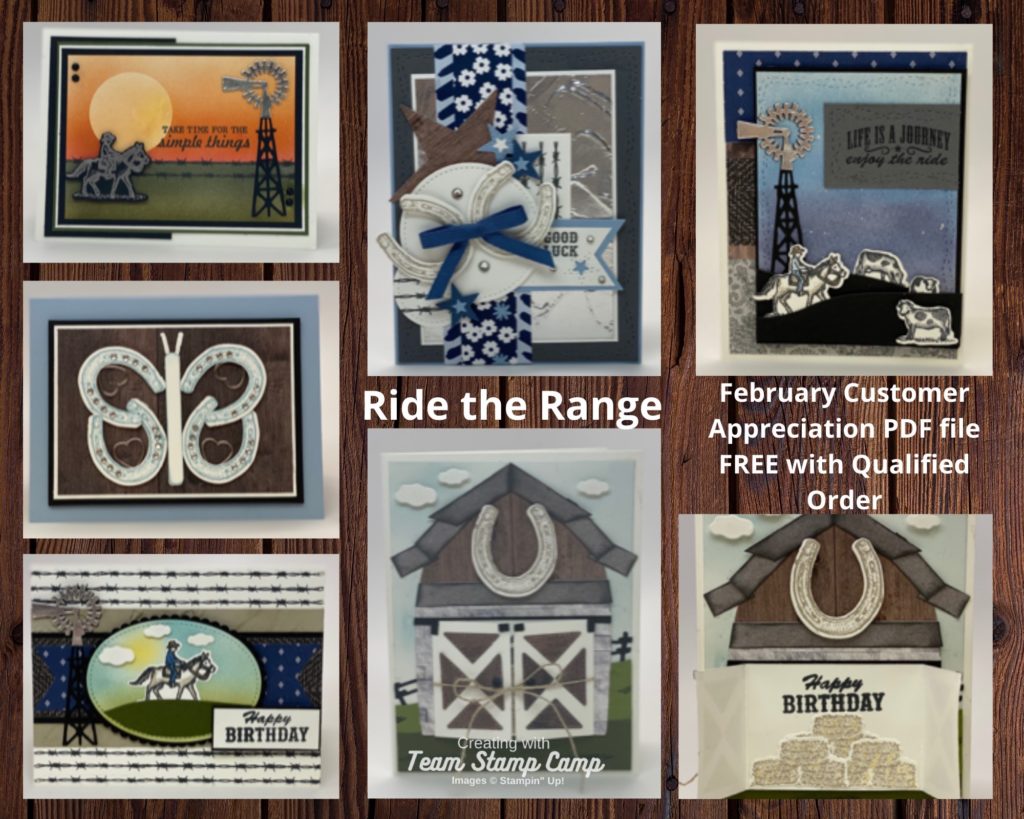 Tina put a video of one of her cards up on the Creating with Team Stamp Camp Facebook page. You can go check it out.
The February Customer Appreciation PDF file features the Ride the Range stamp set/bundle from the January – June 2021 mini catalog. This fun stamp set has some awesome coordinating dies to help you create fun cards or scrapbook pages.
This month's fun fold and scenic cards were created by Tina Gardner one of the Creating with Team Stamp Camp team mates. Tina did an awesome job of incorporating the different Open Range dies in with her cards and projects.
Check out the card with the horseshoes creating a butterfly with them. How sweet is that?
I love how she was thinking outside the box and came up with some beautiful cards both masculine and feminine.
This PDF file is bound to get you thinking outside the box as well. To view all the details on this months Customer Appreciation PDF file click on the link HERE.
To receive the Customer Appreciation PDF file place a min. $30.00 (before shipping and tax order) and use this month's Host Code: G2AYVQFE
If you want both the Customer Appreciation PDF file and Stamp Camp At Home Card Club PDF file and Kit; place a min. $70.00 order and use the host code: G2AYVQFE
Thanks for stopping by and Happy Stamping!