Friday, October 7, 2016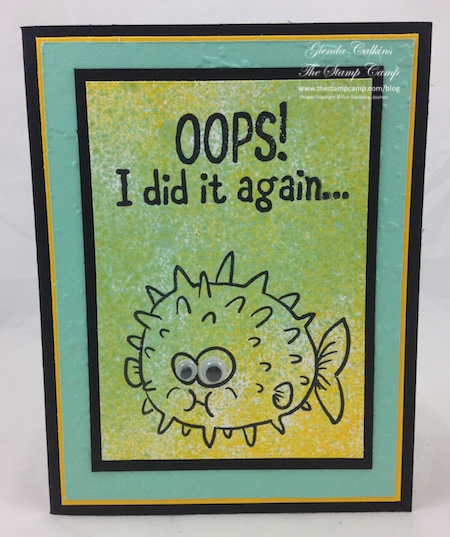 Since I'm giving away this super cute Oops Fish and coordinating Die I decided to make some more samples to share.
What giving away? You missed my blog candy post? Yes, for the last few days if you left me a comment or placed an online order you were entered into the drawing for the super cute Oops Fish and coordinating Die Bloom Benefit.
No worries, the winner will be announced on Sunday, October 9. Leave me a comment and you'll be entered once; place an Online Order with me and you'll be entered twice.
As I was looking at this little cutie fish I decided my Fun Stampers Journey Color Splash and clear block technique would be perfect for this little fish.
Here is the technique if you missed that video:

In the video I used the Bloom Flower but it also works with any other stamp set as well.
The colors I used on my fish sample was the Summer Days ink IP-0042 $7.95 on the block and then I used the Cool Pool Color Splash on top.
Instead of reinking the block with the Summer Days the second time I just sprayed my block with the Cool Pool Color Splash IP-0076 $7.95 and this was my results: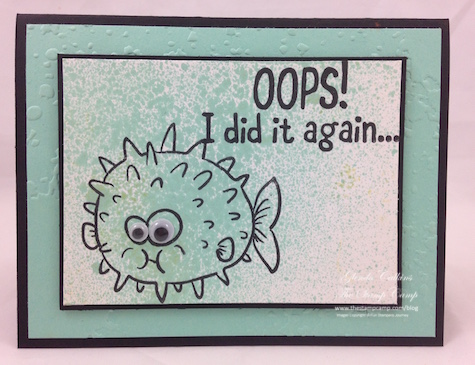 Not much of the yellow came through the second time; but still a pretty cute card.
I love to use the little wiggle eyes AC-0173 $2.95 on my fish.
The background cool pool card stock was run through the Journey Platinum inside the Ink Slash embossing folder EF-0008 $4.95.
The Oops fish and coordinating die are FREE Bloom Benefits.
Keep in mind with every $50.00 spent you will receive a Bloom Benefit for FREE!
To view the different Bloom benefits you may choose from click HERE for the annual catalog.
To view the different Bloom Benefits you may choose from the Be The Journey Trends Mini Catalog Click HERE.
Remember if your order is over $150.00 EMAIL me your order and I'll give you a call. I don't want you to miss out on all your freebies!
Click HERE to view the list of ATS stamps.
Place a min. $30.00 order and receive the video and PDF file of instructions for this month's featured stamp set Autumn Days Bundle. This month's awesome project is a desk set box with 5 coordinating cards and envelopes.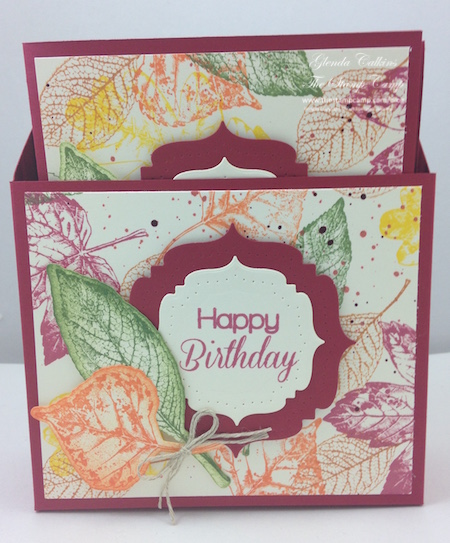 Click Here to view the post with the List of Products needed to complete this month's Featured Stamp Sets cards.
If you would like to purchase the PDF file and video unlock code email me and I'll send you a PayPal invoice for $9.95.
The Whole month of October you can get all your Scrapbooking accessories at 20% off! SWEET! Click Here to view the list of products on the 20% off list.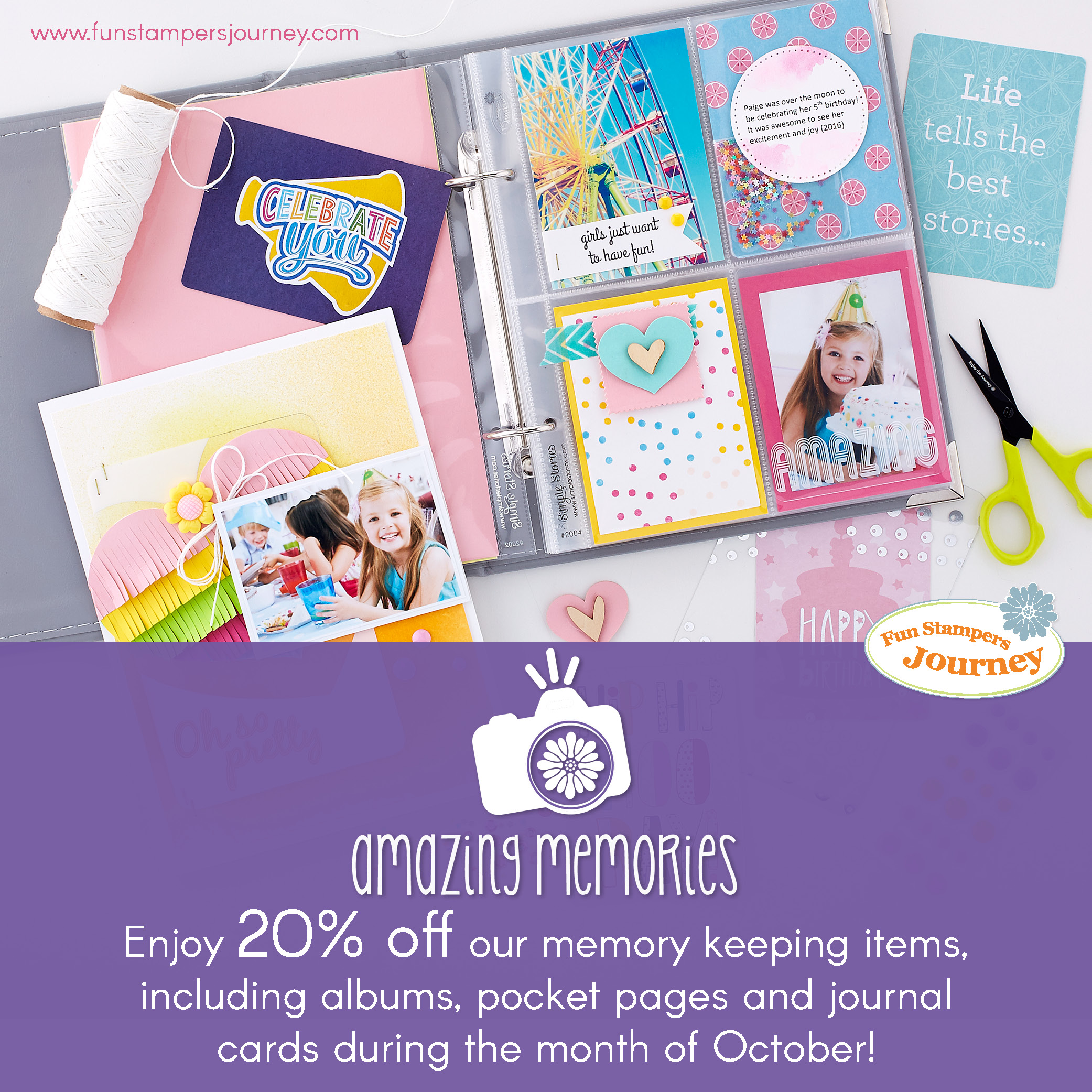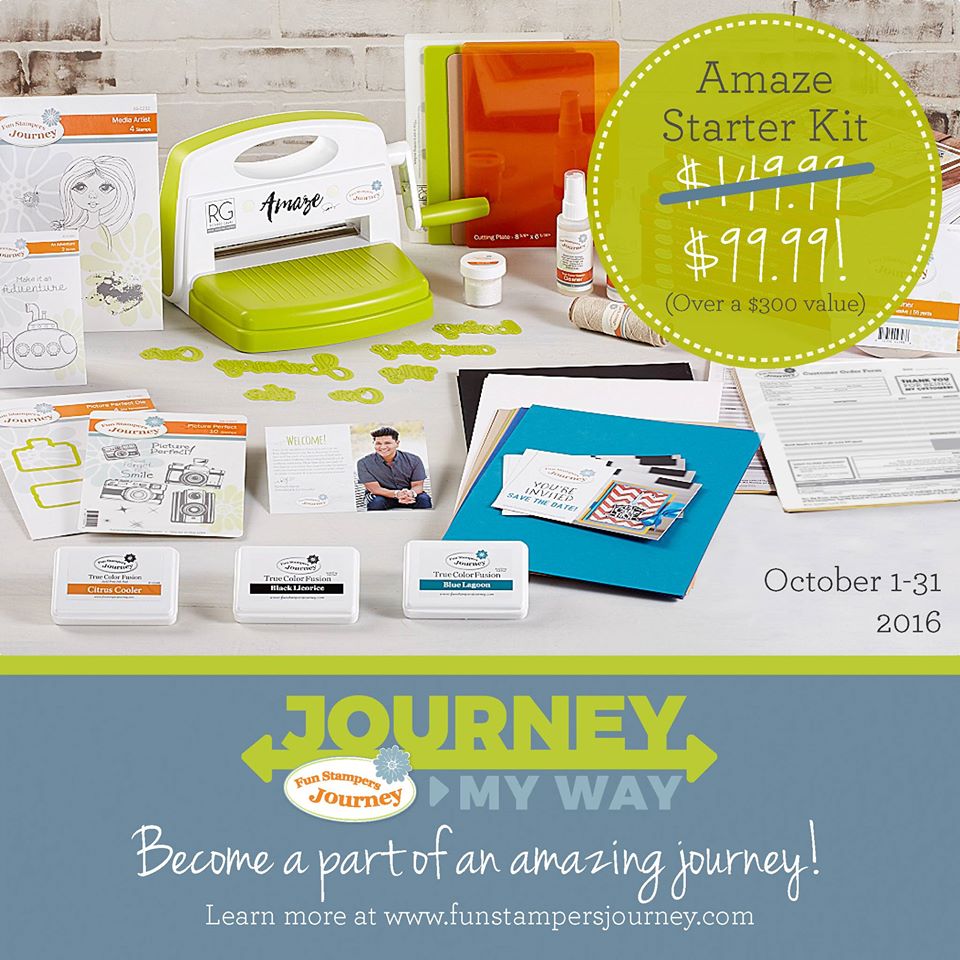 The Whole month of October you can join my team of awesome Coaches for only $99.99!!! You will receive the New Amaze die cutting machine in your kit plus some great stamps, inks, paper and accessories!
Click HERE to view the contents of the kit.
I would love to have you join my team! This is such an awesome deal it's too good to pass up! You get the Amaze Machine (which sells for $139.99) for only $99.99 PLUS stamp sets, ink pads, paper, twine, adhesive, cleaner, journey glaze etc.
If you have any questions you can email me or click on the Join my Team at the top of my blog.
Thanks for stopping by!
Glenda
Next LIVE Event is Next Week Tuesday, October 11 at 8:00PM EST!