July 11, 2017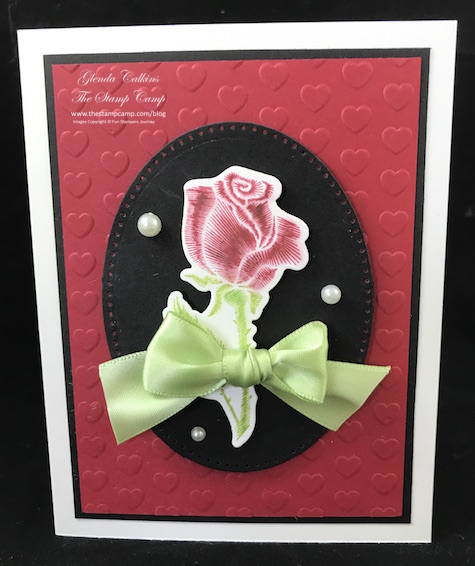 My featured stamp set for July is the Embroidered Rose and it is drop dead gorgeous!
Today's card was one I made when I was coming up with my cards for this month's project.
The background on this card is the I Heart Embossing Folder and will make another great Wedding card for one of my weddings this summer.
When I was working on my grouping for this month's featured projects I decided to go with the new Corrugated Board Embossing Folder instead. I like them both but felt the Corrugated Board background went better with my ensemble of cards I created for this month's featured project.
I love the whole Mystic Romance collection and they all have that embroidered look to them which is stunning and they stamp up so beautifully.
When you purchase the Embroidered Rose Bundle make sure to add the Embroidered Greetings stamp set to your order as well; they go hand and hand.
Here is your shopping list for this month's featured Card Collection:
Click on the products you wish to purchase and add them to your cart.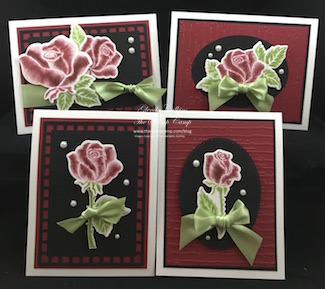 With a min. $25.00 order you'll receive the PDF file of instructions plus a video on the techniques for this month's Gorgeous Collection of Embroidered Rose cards.
Need the new catalog? Well it's my anniversary month with Fun Stampers Journey I've almost been a Coach for 1 Year already! So if you place a min. $50.00 order I'll send you both the Unlock Code for the PDF file and Video Plus the New Catalog!
Orders over $150.00 earn FREE Hostess Benefits, Bloom Benefits as well as an ATS Stamp. You can now place any size orders you want and you will receive the Hostess FREE, FREE ATS stamps and Bloom Benefits! LOVE THIS!
All orders of $50.00 qualify for a FREE Bloom Benefit and you will be prompted!
Orders can be placed HERE.
Happy Stamping!
Glenda