Thursday, October 12, 2017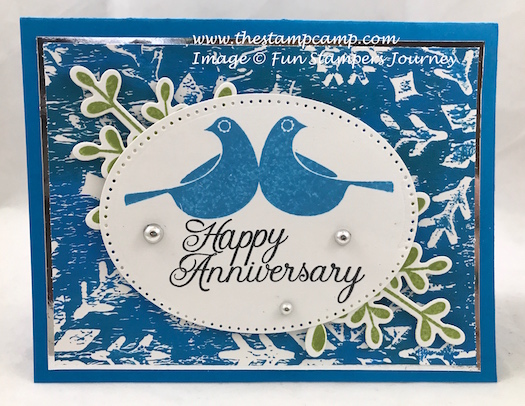 Funny thing about this Anniversary Card when I created it I was thinking of my daughter and son-in-law; but when I was writing up my post it is actually my brother and sister-in-laws anniversary today! This marks 38 years for them! I might just have to send them this card.
This card is using my technique for today the Acrylic Paint with Stencils and the Gel Press!
A couple of tips regarding the Gel Press:
– I've found that it might be a good idea to store them without the Acrylic Sheet over the top (this may cause air bubbles to transfer to your finished pieces) instead just store inside the plastic container it comes in.
– You may want to purchase a second Gel Press so you have 1 or Acrylic Paint and Modeling Paste and a second for ink pads and reinkers.
– It's handy to have a cookie sheet with sides next to you with warm soapy water in it to transfer your Stencils into. (Trust me those stencils are WAY harder to clean if you let the paint dry on them a little bit.)
– It is best to use a little paint and add more if you feel the need than to add to much and wish you hadn't.
– Baby Wipes work really well for cleaning your gel press.
The stencil I used on today's projects is the Winter Wonderland 8 1/2″ X 11″ stencil.
The stamp set I used on today's card is the Winter Doves Bundle and the sentiment is from the Bird Melody Bundle.
You can really use this print I created with the Gel Press for many different winter cards. So pretty and just love the texture of the paint.
I also created my Technique Album Cover using a few sheets of my Gel Press creations.
This is a 3″ Binder and I just slipped the 8 1/2″ X 11″ Gel Press pieces inside and tied the Beach Ball Satin Ribbon around where the two pieces met. I Tied a Mirror Silver Snowflake to the center of my tied Beach Ball ribbon and added a Rainbow Drop to the center of the snowflake.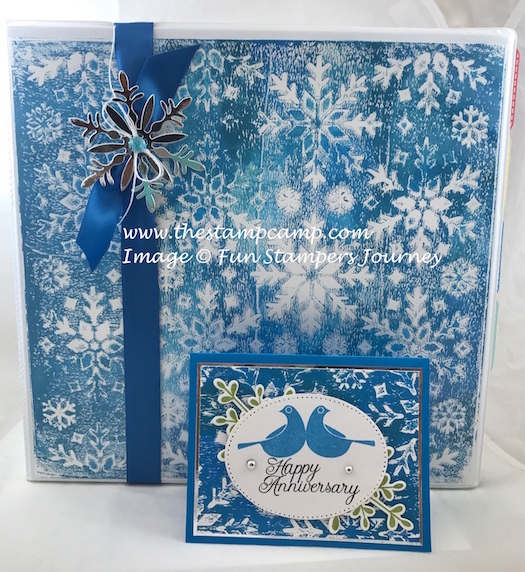 I think I should have added a bit more paint but I like the distressed look and feel to the prints.
Here is your shopping list for today's technique:
Ordering is simple just click on the products you wish to purchase and add them to your shopping cart. Orders are greatly appreciated!
Here is the video on today's technique:

If you have paid for my Techniques Class remember that the PDF file for the cards I did in the videos can be found in the Photo Gallery at the top of my blog. Use the same Unlock Code that you used to get the 50 PDF files.
If you would like to be a part of my Techniques Class and receive the PDF file for the 50 different techniques you can email me: glenda@thestampcamp.com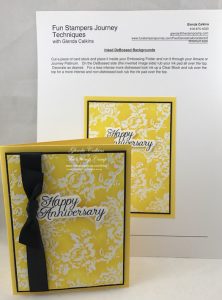 Details on my Technique Class can be found in this blog post HERE.
This month's Special is the Make Your Mark 25% off Planners and Accessories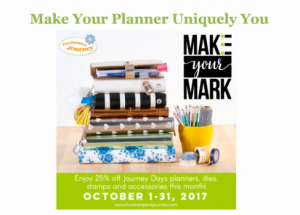 Click HERE for the list of Products on Special
Did you hear about the BIG DEAL? You can join my team in October & November for only $25.00!!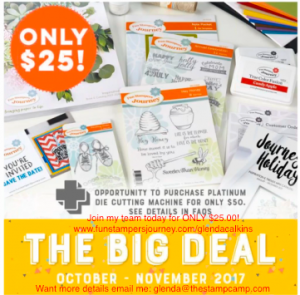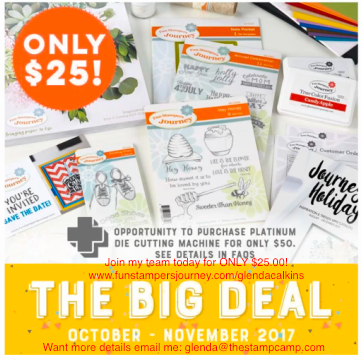 Click HERE for all the details
Bloom Box for the Month of October Later Gator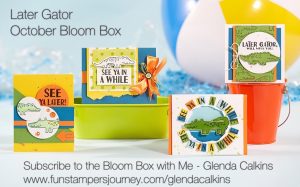 Click HERE for all the details
Have you registered for the next FSJ Bloom This Way Live Event being held on December 2nd? Register by October 23 to get the Early Bird Pricing!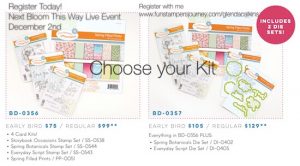 Details can be found HERE.
My featured stamp set for October is the Hello Fall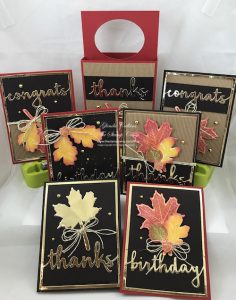 You can view all the detail HERE.
Orders can be placed HERE.
I've had some inquiries regarding getting the PDF file and video unlock code without ordering. I will sell the unlock code for the Video and PDF file for $9.95 through PayPal. Email me if you would like to purchase it.
Happy Stamping!
Glenda